IT'S A SIM ON FIRE RIDING A BROOMSTICK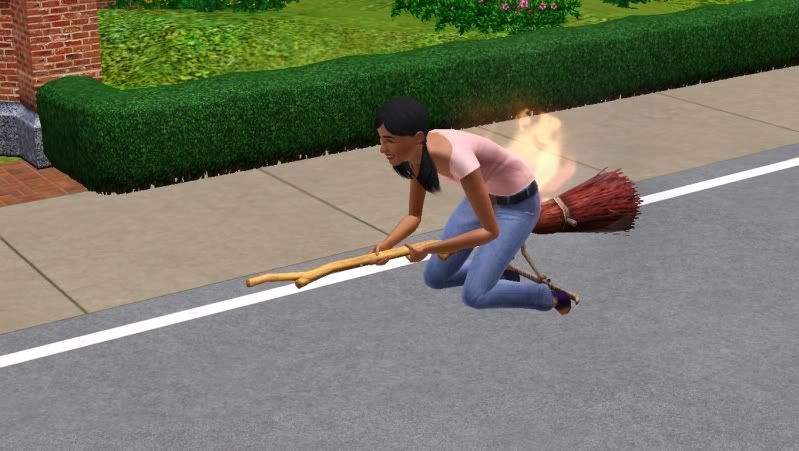 I don't know who that Sim is, she's just some poor random target of Cassie's spells.
Anyway, today we continue the story of Ayame Kudude's children. We have
Jake Reaper
, a boring human;
Cassie Thopp-Doom
, a witch;
Tobias Sekemoto
, a werewolf;
Rachel-Iduetta Not
, a vampire; and
Marco Zelda
, a (dead) fairy. Also
Aximili Rutela Cousland-Thropp
, who is not one of Ayame's kids but is included in their group because she is
Important
.
Jake and Cassie were half-siblings. But while under the influence of cheaty mods one night, they had an unfortunate... accident. The accident was a girl named
Cassie Nova Thopp-Doom
.
Like her mother, Cassie Nova was a green witch. Like her father, she had Ayame Kudude's ku hair and looked like a regular human, no Navi cat-eyes or cat-nose-brige for her!
One day she cast a few too many Haunting Curses and died.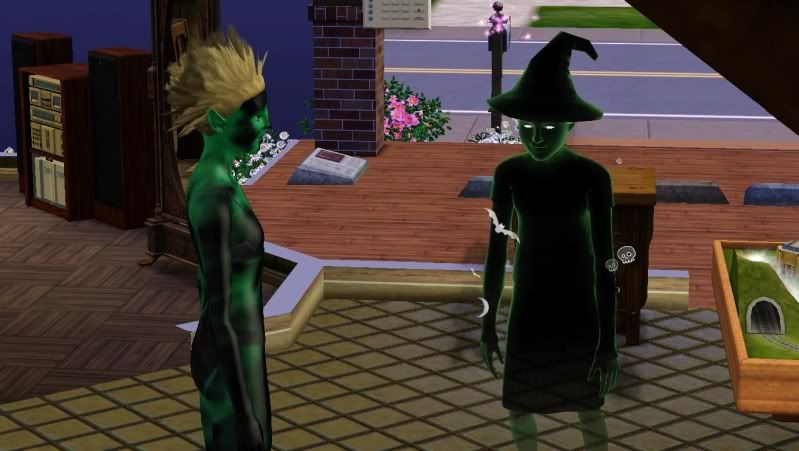 Cassie (the mother) is the singed one on the left. The burns are from more of Cassie Nova's spell practice. Cassie Nova (the dead daughter) is the ghost on the right. I love the new ghost colours in this expansion pack!
Anyway, they restored her ghost so all is good.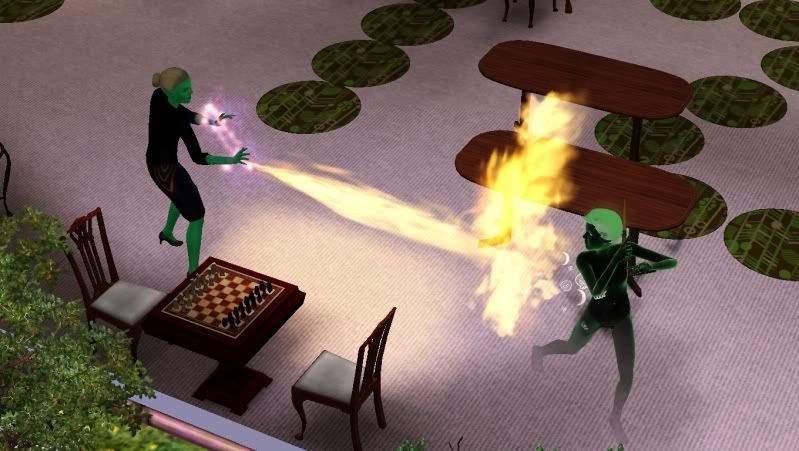 Also they moved into the old Butz house. Man, I made this house (with friends) more than two years ago!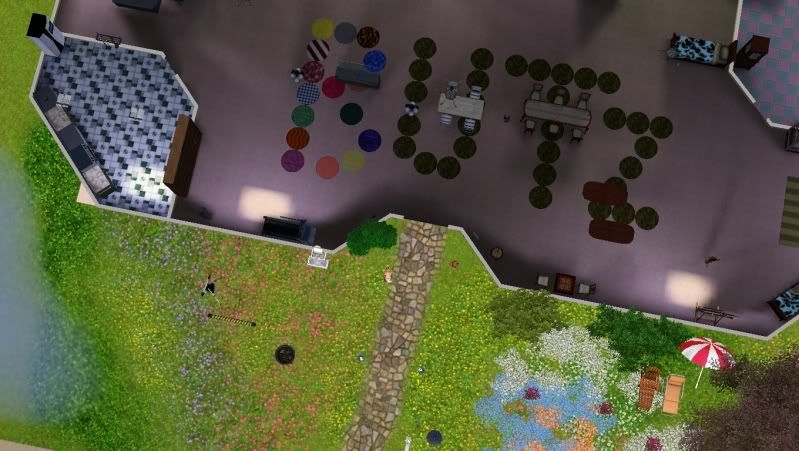 butz butz butz
xxxx
Meanwhile, Marco and Aximili had gotten married.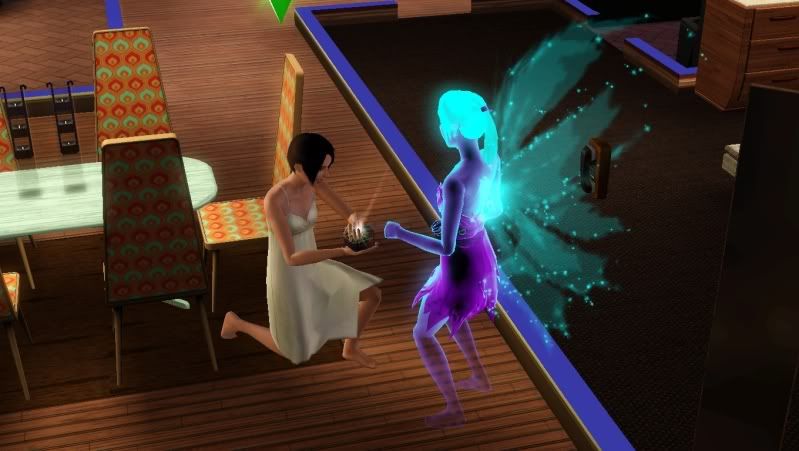 Aximili is the human, Marco is the ghost fairy.
The reason why Ax is
Important
is because.... well. Elphaba and Fiyero (the founding couple of this huge family that I'm playing with) had three kids. Ax is the first person to be a descendant of all three of them.
They had many adventures. Ax's lifetime want was to become a "Zombie Master" - i.e. turn 10 Sims into permanent zombies. So after getting Boppin' Jumba (who had the Collection Helper reward item) and Tobias (who was a werewolf so could hunt items) to help collect ingredients, and after getting Cassie (who was a star alchemist) to mix some zombie potions, Ax did just that.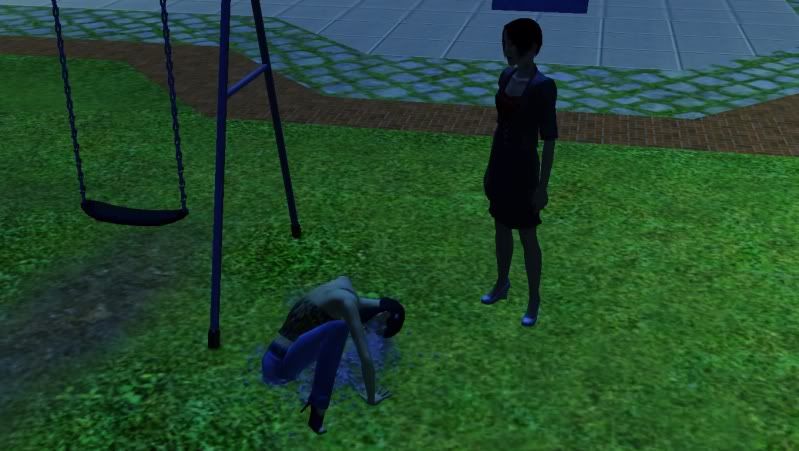 zoooommmbiiie attaaaack
Also, ghosts can be turned into zombies. (This particular ghost is Bob la Fatte.)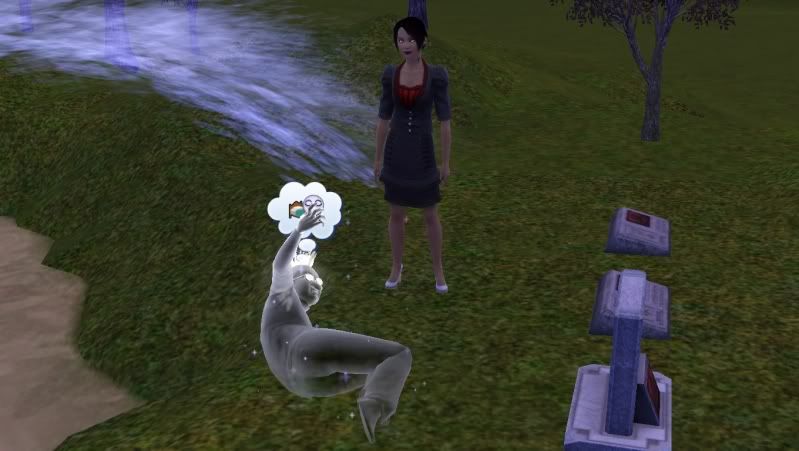 Also she experimented with a potion called Clone Drone, just because. Clones. Ho ho ho.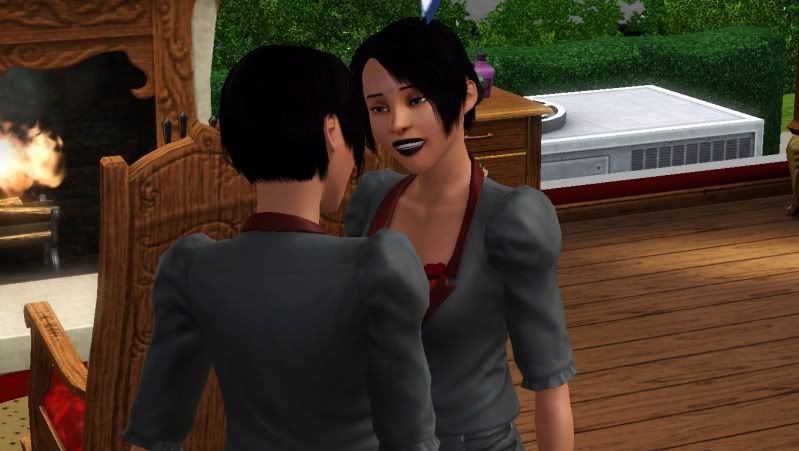 Guys, you are getting uncomfortably close. [side note: you can just about see some faint facepaint marks, which are an inheritance from Fiyero. This is because Ax is
Important
, being the eldest child of the eldest child of [...] of Fiyero.]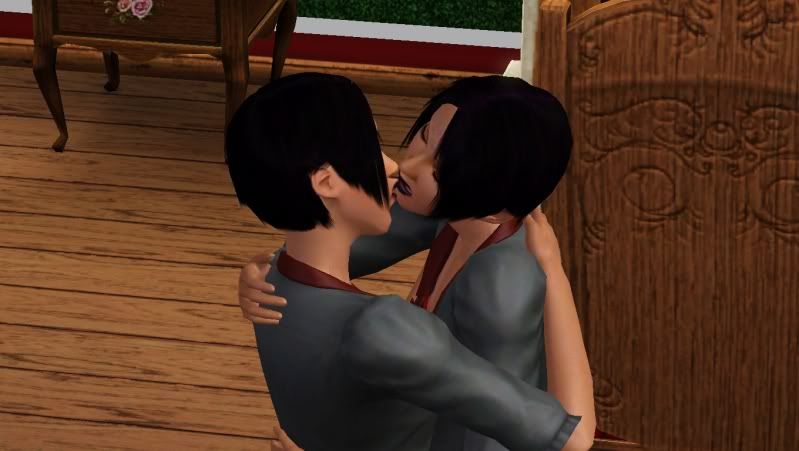 NO WHAT ARE YOU DOING. EW. ARGH. EW.
At some point she became a vampire, because all the cool kids are vampires.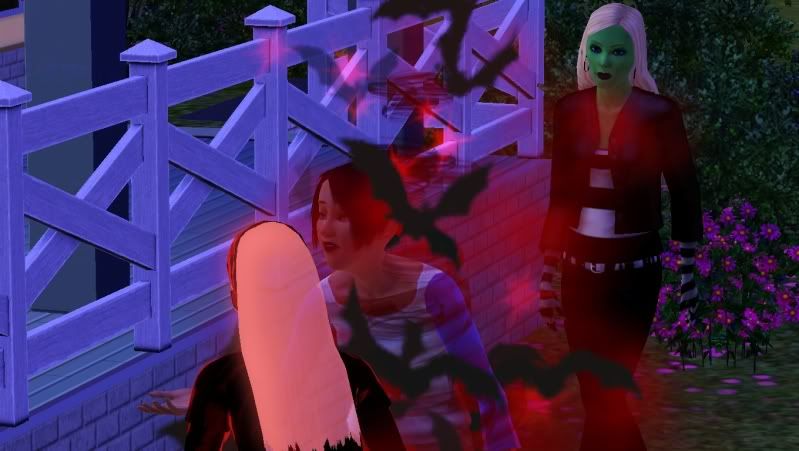 Katina and Boppin' Jumba helped her with that.
Through the power of LOVE, she and Marco had some kids.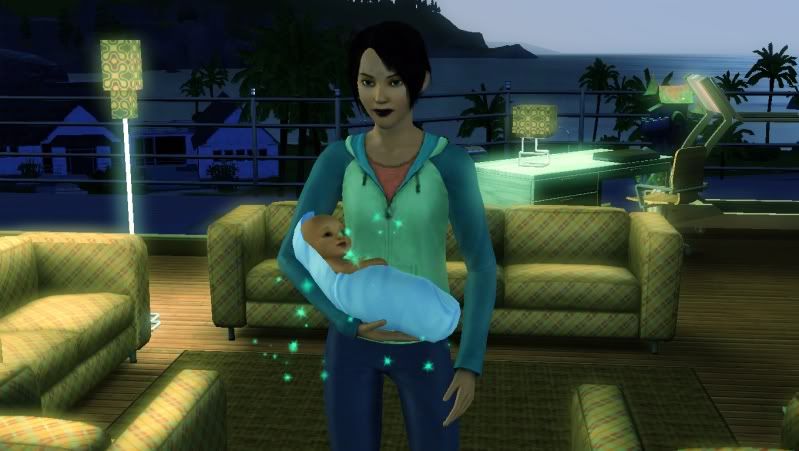 IT'S A SPARKLY FAIRY BABY
They named him
Goron Cousland-Thropp
. (I am not that obsessed with Zelda, it is... a family thing...)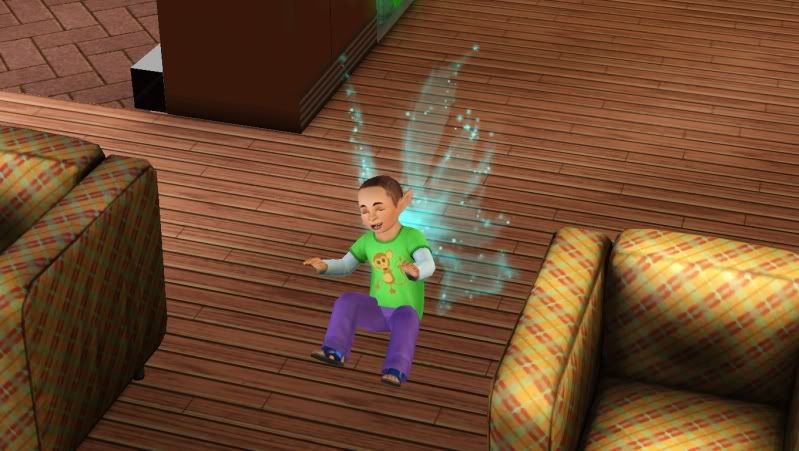 FAIRYBOY
He soon had a sister called
Zora
. Goron was a living fairy - Zora was a ghost human.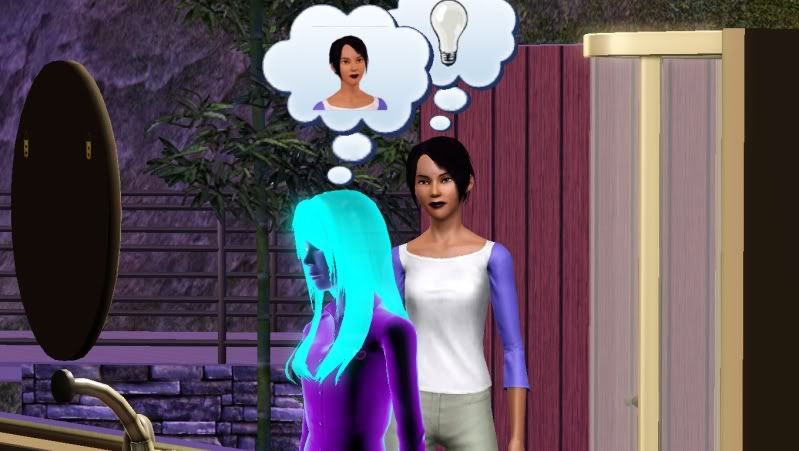 Here is Zora looking mournfully at her ghostly reflection, while... thinking of her mother. Who is standing behind her.
And here are Goron and Zora as adults together.
I know Goron looks like a ridiculous fairy elf lord, but I love him. He is just so wonderfully ridiculous in all the right ways.
I really love The Sims 3: Supernatural.