Lemme try and remember where I got to last time. I think I covered Doohood and his spawn (BRAIN BLEACH NOW PLEASE), and the Zelda/Boobface couple. Okay. The next couple on my list of screenshots is Teacake and her husband.
As you may or may not recall,
Teacake Thropp
was Zelda Zelda
née Thropp's sister. Their parents were the half Na'vi boy Sea von Thropp-Doom and Dangerou Thropp. Unlike Zelda, Teacake had blue skin like her father, albeit somewhat paler.
Aha! I found that old picture of her. She is the eldest child of the eldest child of the etc of the Thropp family, so she took Fiyero's facepaint :P.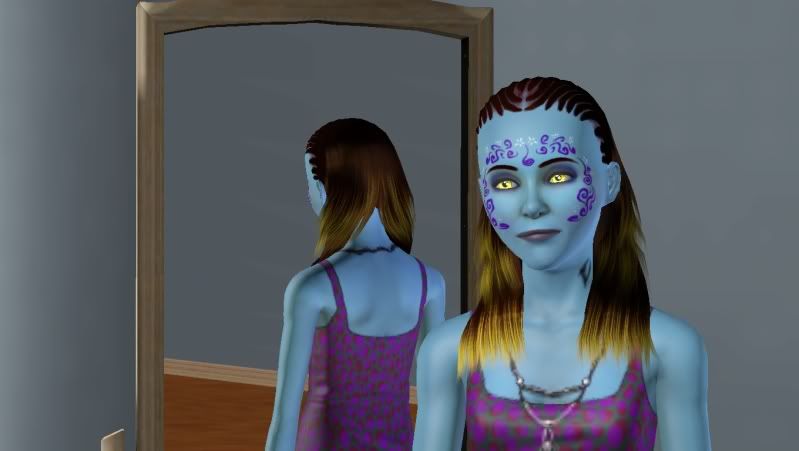 She was a vampire. A very, very wimpy vampire. In fact, she was a vegetarian vampire who threw up every time she tried to drink
human
Sim blood.
After many years of her very scary vampire family (think Heurmyony and Dangerou, Susanaoi the crazy pyromaniac, Katina...) laughing at her wimpiness, she found true love in a normal, non-vampire Sim. His name is Ramon, I think.
Yeah, he's not that interesting. Teacake, due to her wimpiness and inability to bite people, decided to turn herself human rather than turn him vampiric.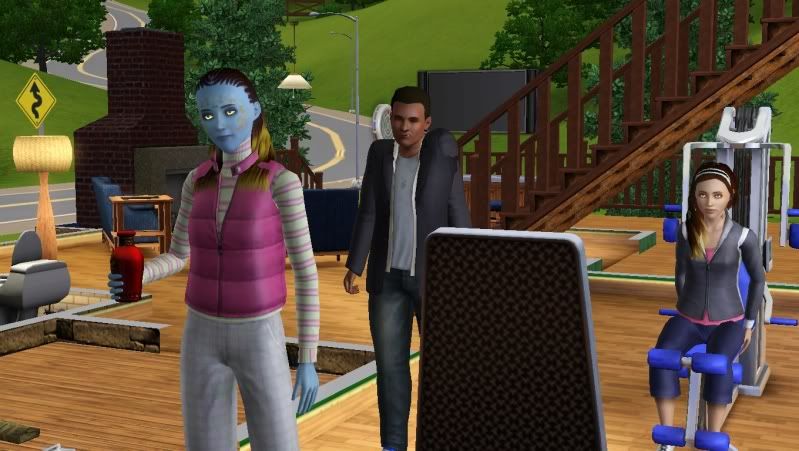 There's Ramon and Dangerou, watching her with the bottle of antidote.
She drank it.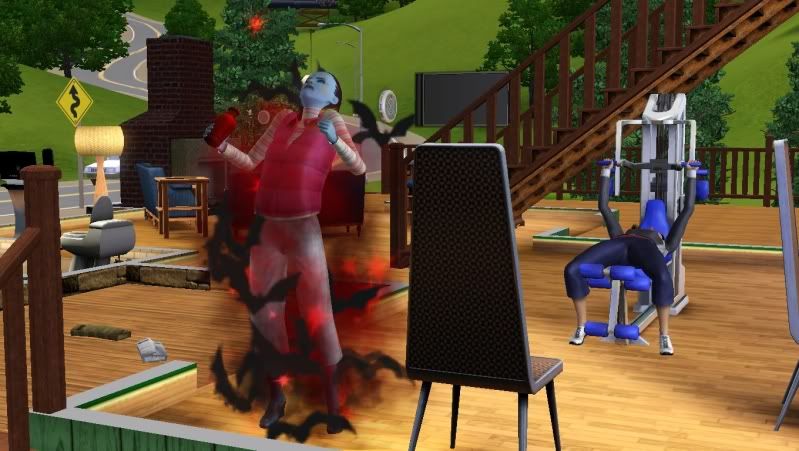 Wait where did Ramon go.
They soon married and moved into Ramon's father's gigantic house. For some reason his father was a vampire; let's not dwell on that.
They had a daughter, Ruto.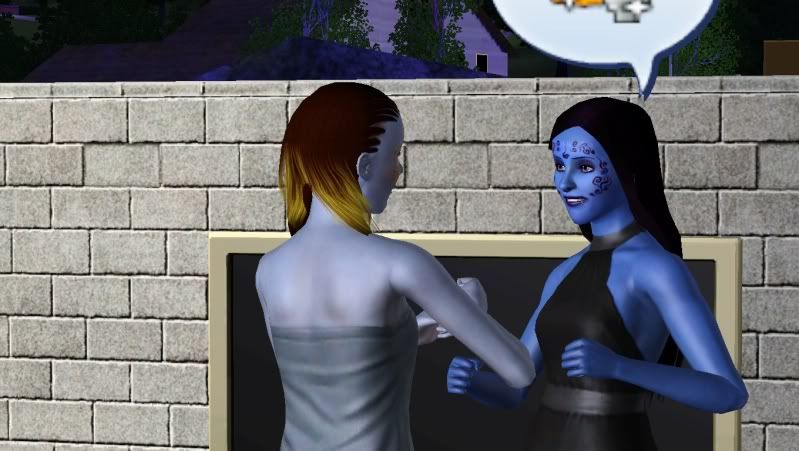 LOOK SHE HAS ELPHABA'S DARK PURPLE HAIR
AND SHE IS BLUE
AND DOESN'T LOOK LIKE A COMPLETE FREAK B
ECAUSE OF THE NA'VI SHIT
HOW AWESOME IS THIS
She is called
Ruto
because she is blue. And she is like the rightful heir or something, being the eldest child of the [...] of the Thropps, and therefore a princess. Whatever.
--
Teacake's sister was
Zelda
, and Zelda married
Boobface
(but you may call him Link if you wish). Zelda and Boobface had a kid,
Sheik
.
He has the kind of face you just want to punch.
--
Okay, so those are Sea's grandchildren dealt with. How about Ay's and Bee's?
Bee
was the blonde girl Na'vi-kin (lol) and she was in a relationship with
Heurmyony
(Dangerou's sister, hahaha). However, since the SimGod (me) was inducing pregnancies left and right for nearly every couple in the game, I got a bit mixed up and ended up with some femmepreg.
From both of them.
I forgot who gave birth to which child, but in the end a girl and a boy were born.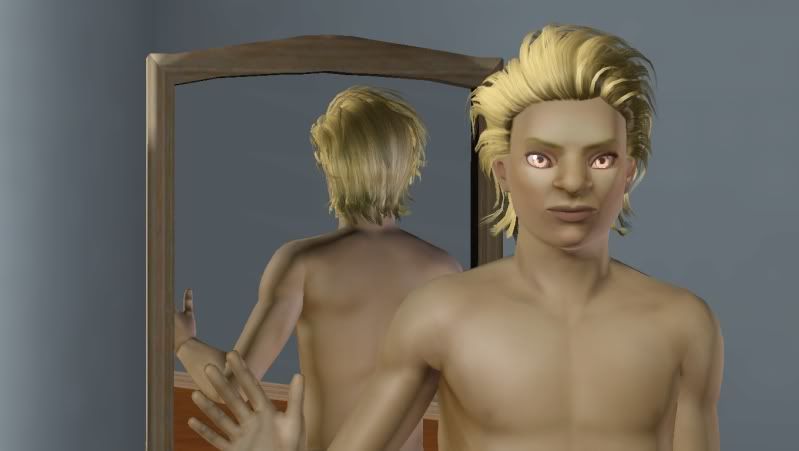 This is
McManly
. Sadly he did not turn out as well as Ruto. (But he is very MANLY... sort of.)
I had a surplus of girls in the family, so Boppin' Jumba and Katina soon dealt with his sister,
McManlya
.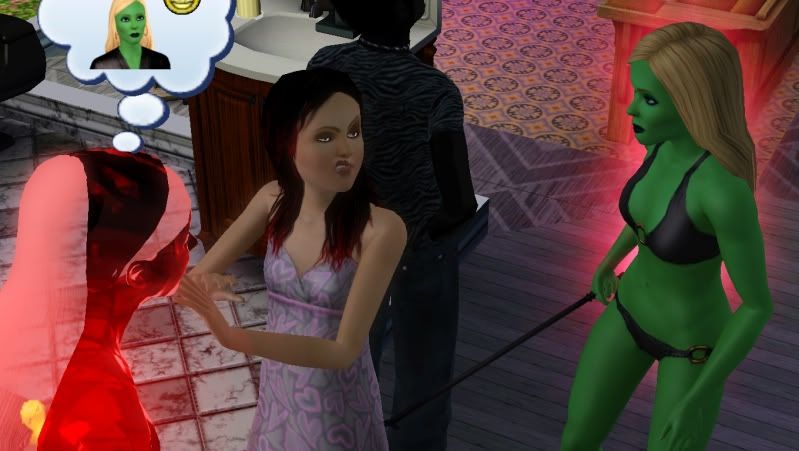 Yes, there is a mod that allows your Sims to commit murder using a poker, hammer or knife. Here's the poker version for you.
lol I love how Boppin' Jumba is glowing red with evil, and Katina is thinking, "Go Boppin' Jumba with that poker!" (you can see half a smiley face in her thought bubble). And Anal Ysis has been called down to watch this fun event, but doesn't really want to look.
Also it must be pretty traumatising to see your grandmother - who looks younger than yourself - in a bikini.
Ahem.
Now, back to McManly, Bee's son. Like his cousin Teacake, he fell in love with a human.
I can't remember her name. Oh well, it doesn't exactly matter anyway.
Unlike Teacake, however, McManly was very MANLY and not a wimp at all, so he turned his girlfriend into a vampire.
I... have no idea who the photographer is. I'm sure the picture made the front page the next day.
Anyway, they too moved in together and had a child. His name was
McDude
.
Here he is with his grandmother, Heurmyony (she is everywhere wtf).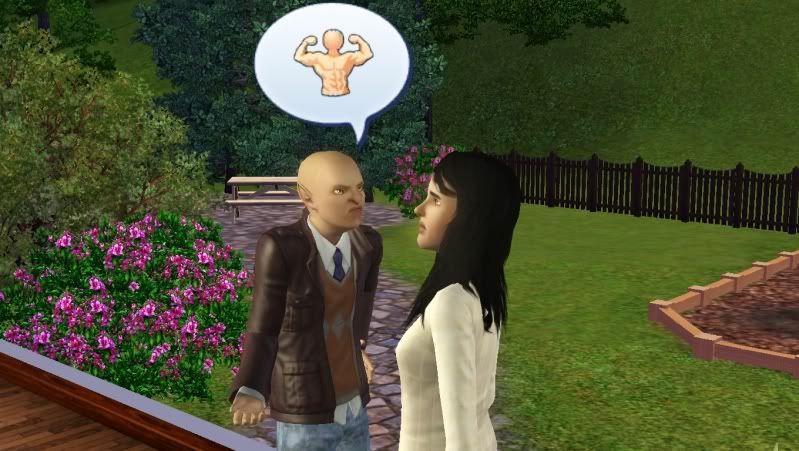 He's only 1/8 Na'vi and he still looks like a freak.
--
As for Ay's descendents... remember she had an affair with Doohood van Poohdle?
Here's the result.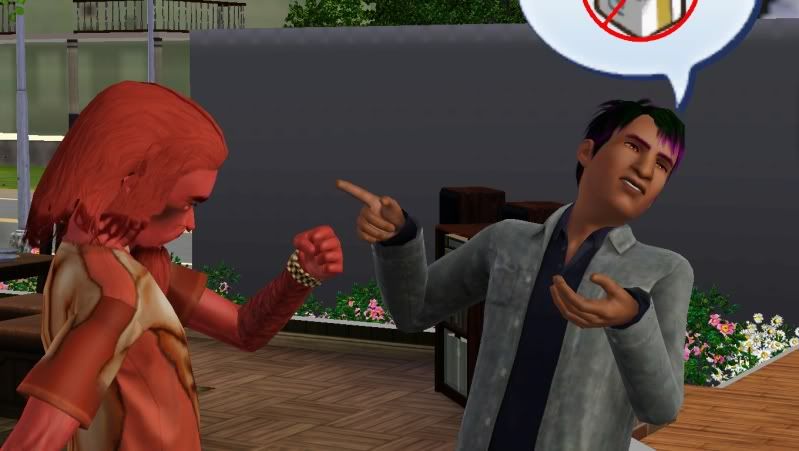 I am so shocked what the hell he actually looks normal apart from the Na'vi bridge
(and the hair, but you can blame Kickin' (or Slappin', I don't remember) for that)
BUT HOW IS THIS POSSIBLE
LOOK AT HIS FATHER
AND HIS MUM LOOKS LIKE A LLAMA.
Next time: a whole lotta ghosts, and SacredBob.